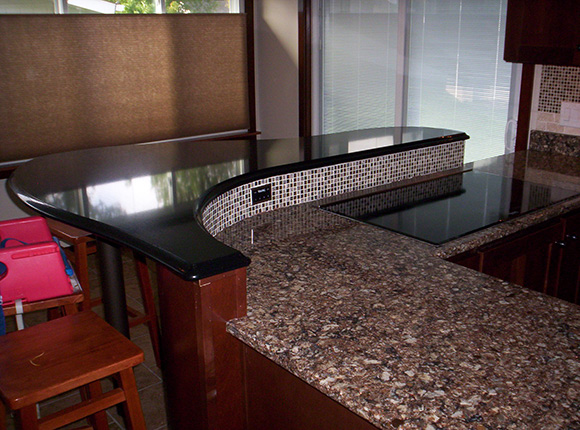 Whether you're cooking a meal for your family and friends or you're brewing your morning coffee and making a bowl of cereal so you can get your busy day off to a good start if your countertops are old and out of date, or you don't have enough space it can seem easier to just eat out instead.
But with a little or a lot of help from the experienced contractors here at Zablocki Construction Inc, no matter how large or small your kitchen is, you can still have enough workspace and gorgeous countertops that fit both your busy lifestyle and your budget so you feel like cooking again.
At Zablocki Contstruction Inc, we've been providing homes throughout Tiffin, OH and the surrounding areas with countertops in a variety of materials from laminate to granite to quartz and more! We're sure to have a countertop that will suit any kitchen and we can install it for you too.
Granite Countertops & More
If you have an older kitchen, you may struggle with tiled countertops that trap dirt and bacteria in the grout between tiles, making them impossible to keep clean. You need a smooth surface that's easy to keep clean. And if you have composite countertops, in spite of being a smooth surface, they stain and scratch easily. The solution is simple, let the countertop experts at Zablocki Construction Inc replace your existing countertops with more modern granite counters.
At Zablocki Construction Inc in Tiffin, OH, we can help you choose from a wide variety of colors and materials including:
Polished and Honed Granite Countertops
Quartz Countertops
Marble Countertops
Stainless Steel Countertops
Travertine Countertops
Corian Countertops
Laminate Countertops
Wood Countertops
And more!
Countertop Installation Throughout Tiffin, OH
Whether you're purchasing new countertops to update your kitchen or a breakroom at the office, or they're part of a larger home or business renovation project, you want to ensure your new counters are installed the right way. At Zablocki Construction Inc, we don't just help you choose your home's or business' countertops, we install them too. We have over 30 years of experience installing countertops for both residential and commercial clients throughout Tiffin, OH and the surrounding areas. Contact us to set up a free countertop consultation.