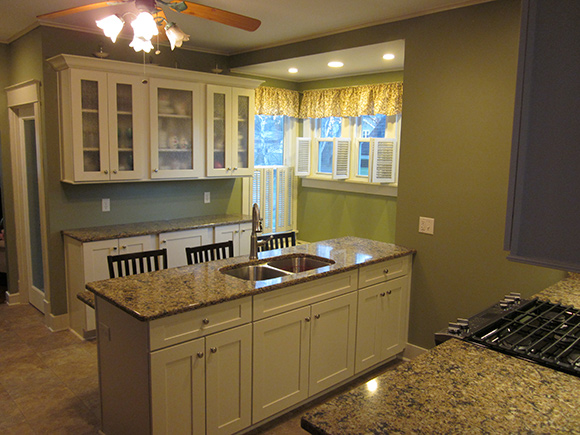 No matter where you live here in the Tiffin, OH area, if you're on a budget but need to update your home because you want to sell it, or it's just out of date and time for a change, it's tough to know what you should focus on. However, with cabinets for your kitchen and bathroom and cabinet installation services from Zablocki Construction Inc, your home's interior can be transformed.
New cabinets can transform the aesthetics as well as the functionality of your kitchen or bathroom. If you don't have enough storage space or aren't getting the most out of your existing cabinets it can be frustrating. Zablocki Construction Inc can help you find and choose the best cabinets for your kitchen and bathrooms and install them for you as well.
Kitchen Cabinets for Every Type of Cook
As one of the central gathering places for your family, your kitchen is most likely the heart of your home. Whether you're a gourmet cook or a just heat up frozen meals or leftovers kind of person, you definitely don't want to struggle when it comes to ensuring your kitchen is efficient and has plenty of storage space. But when your kitchen cabinets are outdated, it can be hard to keep everything clean and clutter free.
At Zablocki Construction Inc, we've been helping customers just like you improve their Tiffin, Oh home's kitchen design with new kitchen cabinets in a variety of materials and finishes since 1987 including:
Base Cabinets
Wall Cabinets
Tall Cabinets
Cabinet Drawers
Cabinet Doors
Lazy Susans
Interior compartments & Drawers
Cabinet Closers
And More!
Cabinet Installation Services Throughout Tiffin, OH
Of course, finding your perfect kitchen or bathroom cabinet is only part of the battle when it comes to remodeling your dream kitchen or bathroom. At Zablocki Construction Inc, we will never cut corners when it comes to ensuring your cabinets are installed correctly. Although we don't make custom cabinets, we know you never want to find ill-fitting cabinets, or cabinet doors that won't open fully or that scrape the ceiling. That's why our cabinet installation services include:
Estimates of total job costs
Assistance finding and choosing your cabinets
Accurate measurements
Removal of old cabinetry
Complete cabinet installation
Cabinet replacement
And more!
Whether you're looking to incorporate new cabinets as part of a complete bathroom or kitchen renovation, just need new cabinets of need to replace or add a couple extra cabinets or drawers, Zablocki Construction Inc in Tiffin, Oh is the cabinetry specialist to trust. To get started on your home's new cabinets, call us at 419-447-7145.